In January, we hosted the EY Tax & Law Days: the annual EY educational knowledge event. This time the event was entirely online. More than 2,100 Tax & Law professionals from 17 countries followed various virtual sessions. EY took the digital event experience to a higher level with an attention-grabbing theme and entertaining elements. We asked Paul Bartelings, Director of Learning at EY, how he had maintained a connection with these professionals within EY during this digital event, and how he had succeeded in keeping them engaged with the right content, theme and visuals.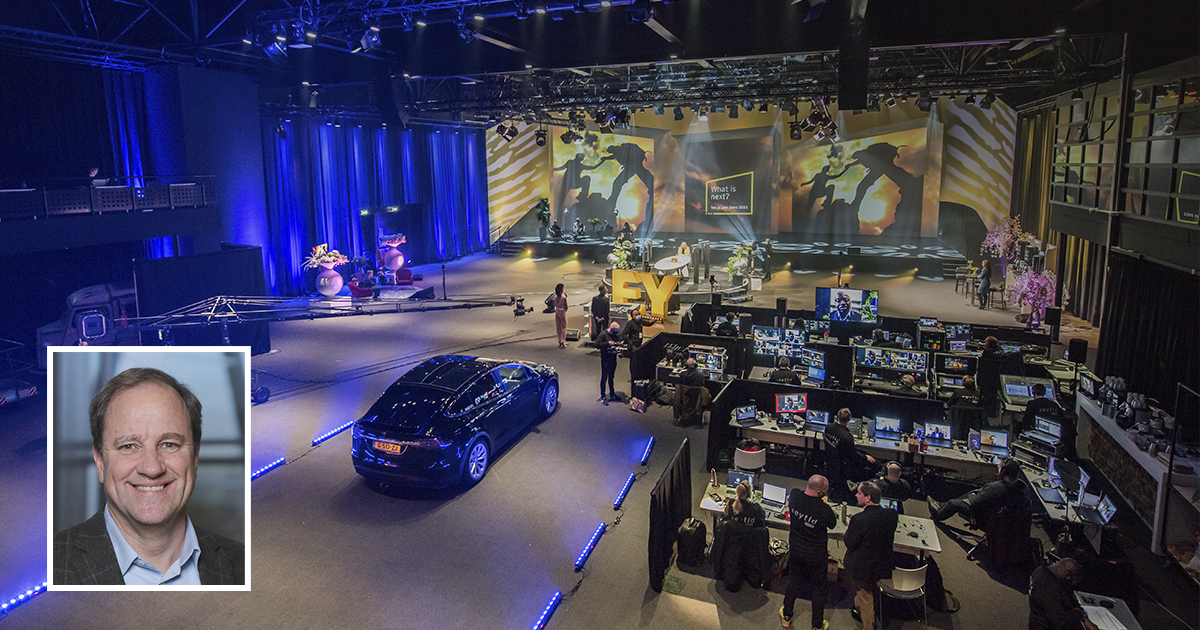 EY has been offering learning events for professionals for many years. It began with a single study day, but after more than eleven years it has developed into a two-day learning event. These events are always based around networking and sharing knowledge. Of course there is a clear link to EY's Global Corporate Strategy, which is realised each year with a compelling theme. The underlying idea is that it should be different every year. In this way, EY continues to surprise and intrigue its employees. "We never expected it would be so different in 2021", says Paul.
"It was important that our learning event went ahead this year, particularly to maintain continuity. Our professionals expect a learning event every year, it has really become part of our culture. We are a knowledge organisation and we do all we can to keep our knowledge and skills up to date. It's something we're happy to invest in. But that's not all: now more than ever, it is important to keep your employees engaged. This meant it was a logical step for us to consider the possibilities of an online event."
An online event offers opportunities
It didn't take long for us to make the decision internally that the EY learning event would go ahead, one way or another. But how we would get there wasn't yet clear.
"A completely different approach was needed, because some objectives were more difficult or even impossible to achieve due to the switch from live to online. In the run-up to the event, we had to formulate many objectives differently or even scrap them to achieve our overall goals. On the other hand, some objectives are actually easier to realise during an online event."
"For example, the switch to digital was a great opportunity to involve professionals from abroad as well as at home. We were suddenly able to reach many more people – from no less than 17 countries. This was far more than before, when we were always limited to a maximum number of visitors at a single location."
"This format also allowed us to unleash our creativity, together with our Creative Designer, Danny Rats from studiorats. For example, the online aspect allowed us to stream from multiple locations that perfectly matched the type of workshop, but with a recognisable and uniform design. As well as challenges, the current circumstances actually led to a fantastic new development. And the end result: knowledge management at its best, if you ask me!"
Online, content really rules
While the content of an event is of course always very important, this is even more so online. Lack of physical contact means that content plays an even greater role. Paul continues his story: "To implement our strategy, we wanted to deliver high-quality content in a perfect format. Which content was available on the event platform, and how easy it was to use, were very important factors. It was crucial that what we shared with professionals was of a high quality and that the visual elements looked attractive."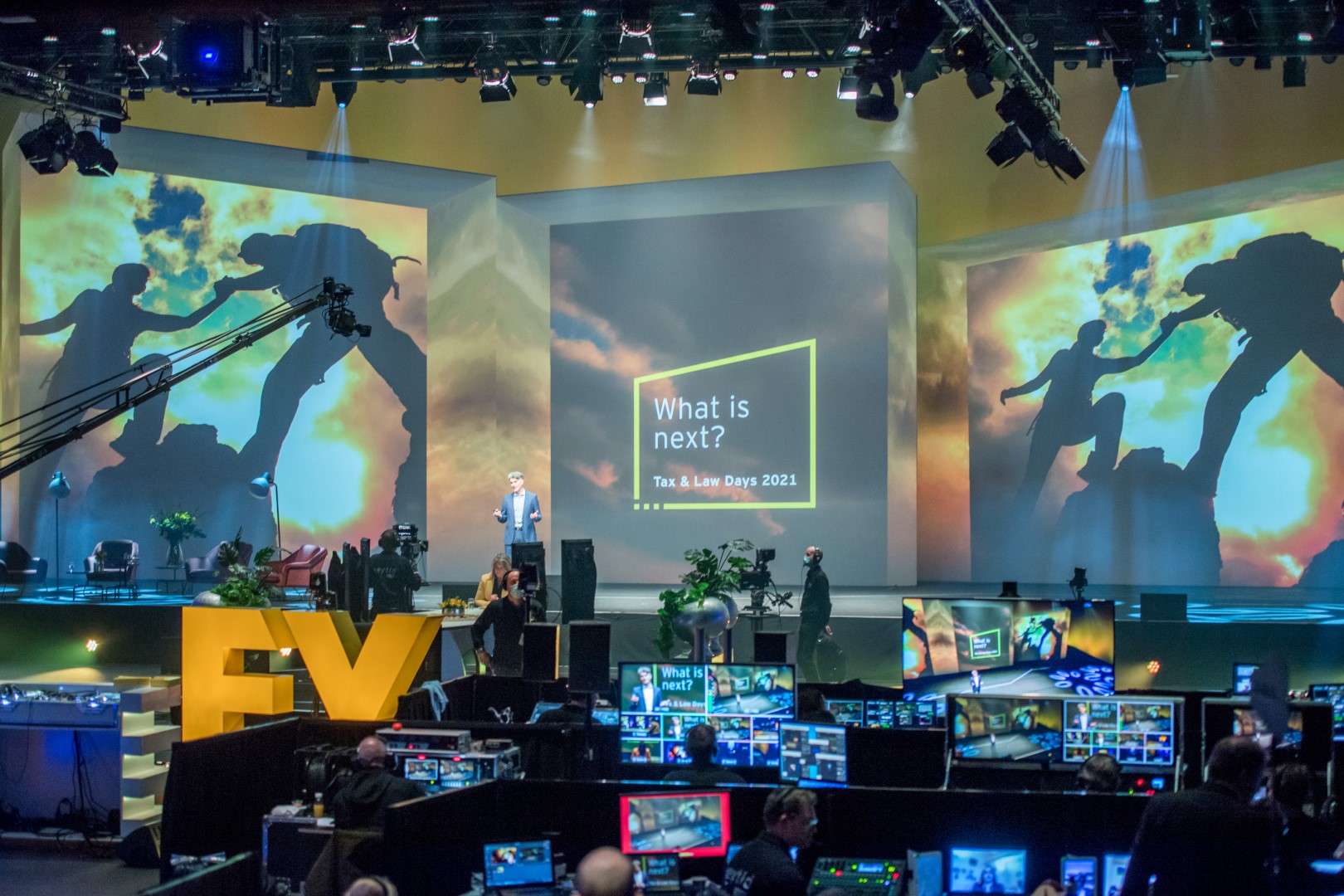 An overarching theme that connects
How do you find a theme that appeals to the entire target group so they remain engaged and motivated online? Paul has the answer: "During the planning stage, we contacted several of our professionals about the choice of theme to find out what was interesting and relevant to them. That allowed us to generate advance interest among the target group and make them part of the learning event. This immediately gave us a great deal of valuable input to incorporate into the theme and programme."
The theme – What is Next? Entrepreneurship, Technology and the Human Touch – played a vital role, which was clear from the speakers and sessions. "Our experienced speakers also had to retain participants' interest during the sessions. We briefed them about the theme and offered suggestions on how to incorporate it into their case studies. The speakers highlighted links to recognisable strategies and current topics. For example, one speaker covered COVID-19 in more depth and how it affects our brains. People were curious about this current topic, which also fit with the theme!"
A uniform, professional image
As Paul explained earlier, visual recognisability was extremely important to retain the interest and enthusiasm of participants. "We wanted to create that engagement with a smart, professional image. The budget was primarily spent on technology and design, since details are much more noticeable online. This meant a good stream with a sleek design and a matching studio setting were also highly desirable."
"As I have already mentioned, recognition and a uniform appearance were paramount. As such, the pre-recorded sessions had exactly the same background and branding on the screens as the live sessions. The recurring bumper and other attributes and decorative elements in the various studios that appeared during the online event also matched the theme. Together with the camera technique, light and sound, this made a professional impression. Thanks to the uniform images and visuals, every aspect of the event was highly recognisable", says Paul.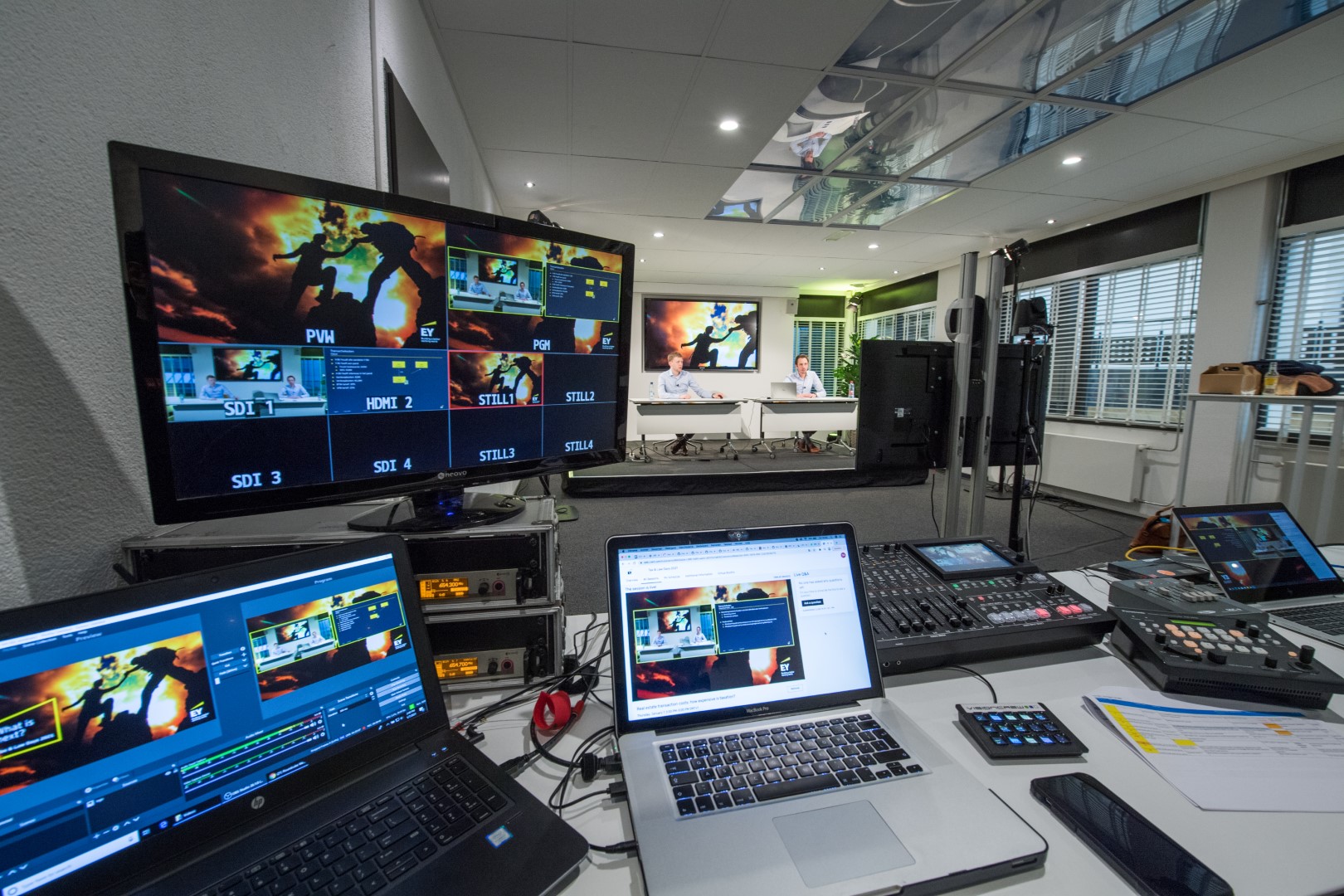 Enthusiastic participants thanks to snappy content and fun
The fact remains that it is much harder to stay enthusiastic behind a screen than physically in a room. Nevertheless, Paul and his colleagues shortened only the plenary sessions.
Paul explains: "While many event organisers advise covering the programme in a shorter time, we consciously chose not to do this. The reason is straightforward: it was a learning event. The objective was to keep the knowledge and skills of our young professionals up to date, and that takes time. Of course, we did make a few adjustments here and there to keep our content snappy. For example, the host invited four speakers to join each session for a short interview via large screens. We alternated this with a live panel on stage. Various countries were also given five minutes of airtime between the sessions! We also organised entertainment during the breaks, because fun is particularly important during an online edition."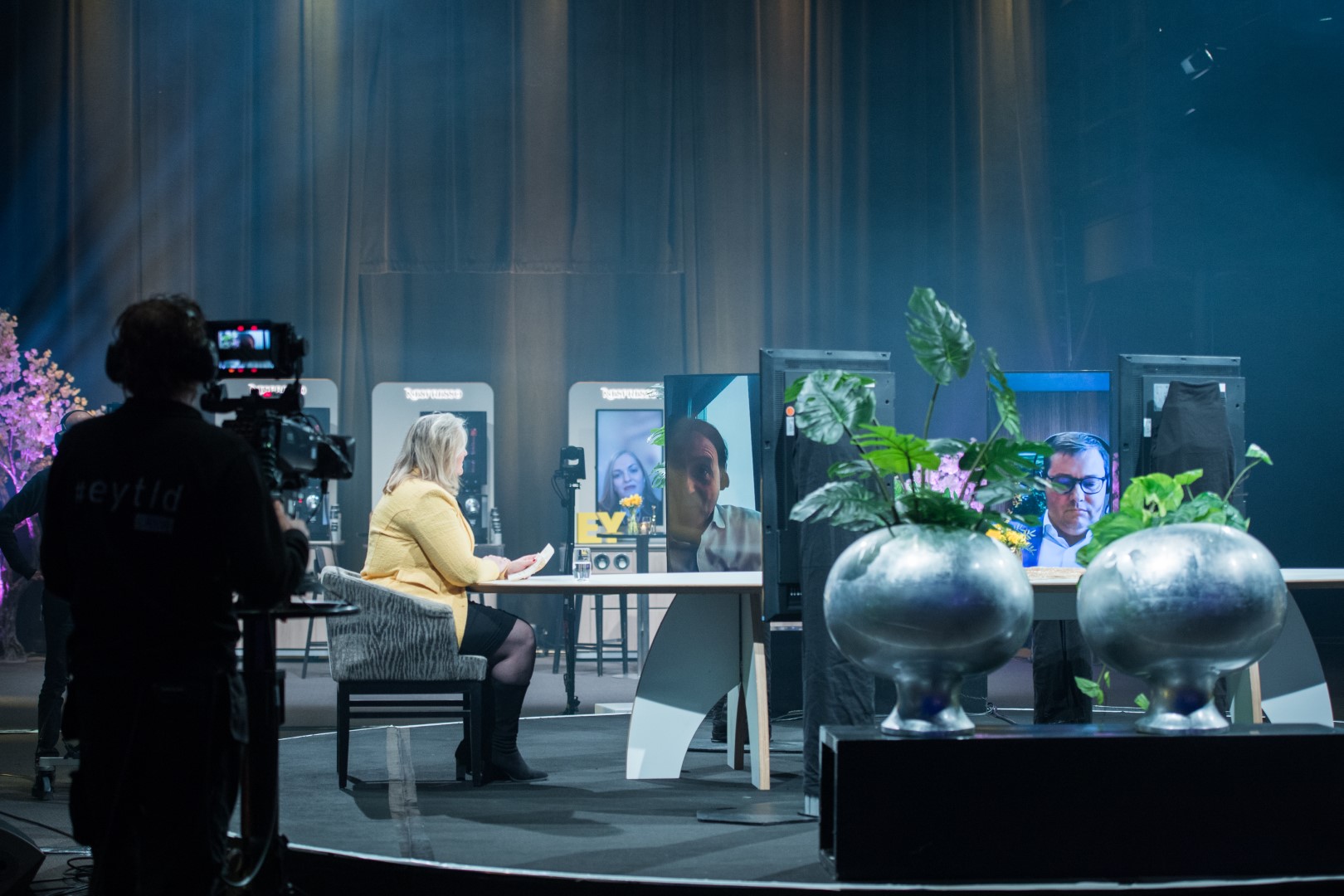 Paul continues: "For many years, we brought our learning event to a close with drinks and a party. We wanted to retain this fun element, but what would be appropriate for our organisation and this online learning event? At EY, we have a health and fitness strategy, which we use to focus attention on vitality and well-being. We saw this as a great starting point, because most of our professionals are currently working from home. After 3.5 hours of listening, it was time for an Energiser. With the help of a professional trainer with just the right props, we created a good balance between vitality and practice. Just as with every live edition, we closed this online edition with a fun element. Since an unforgettable company party unfortunately wasn't possible, we instead organised The EY ShowQuiz and a Live Cooking show."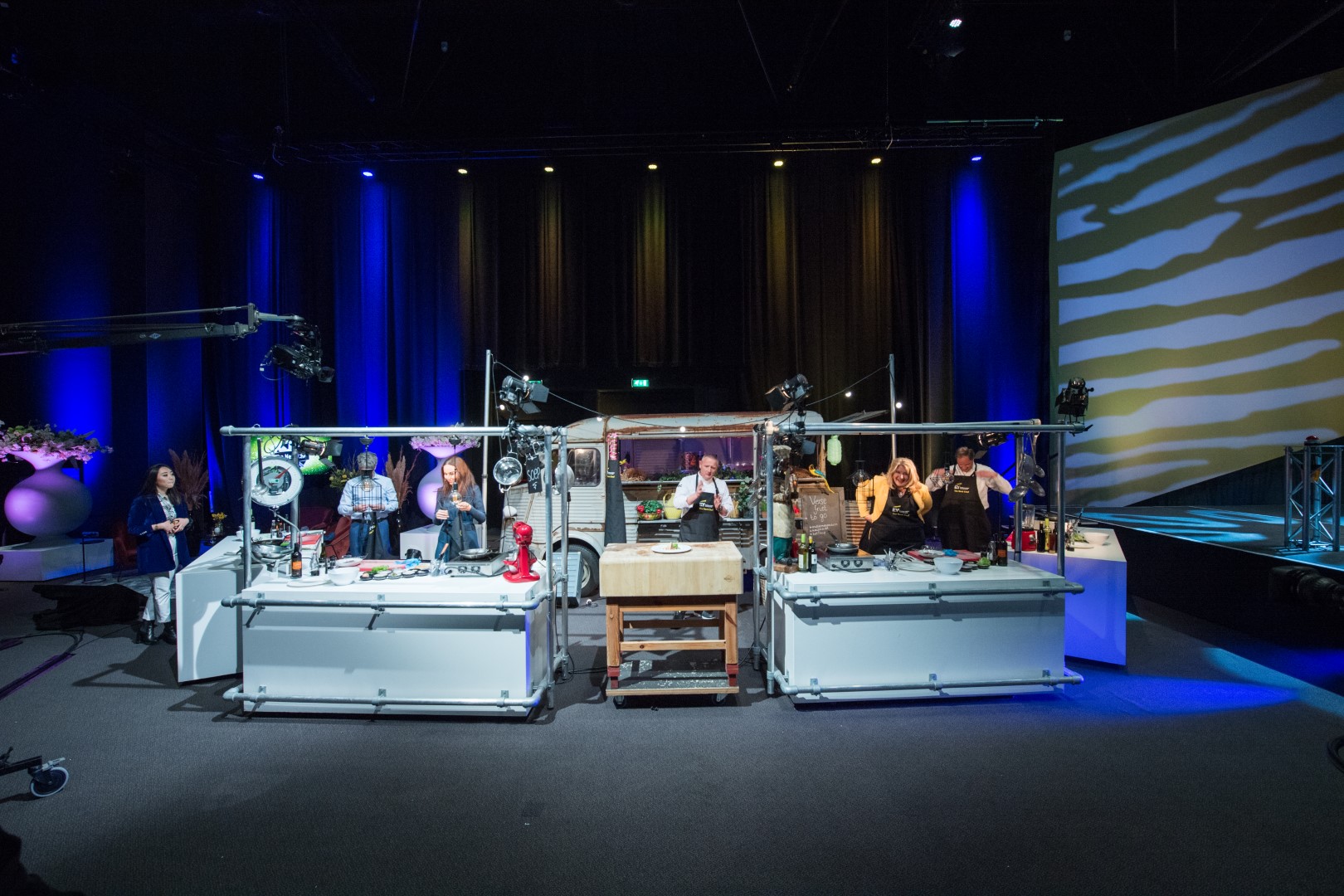 My golden tip: join forces for a perfect result
"Brainstorm with all relevant parties at the earliest possible opportunity. This will help you create a great result together. Thanks to the perfect three-way partnership between EY, studiorats and the NBC, the online learning event was a great success, just as we always try to achieve with a live edition at an event location." – Paul Bartelings, EY Director of Learning
How Paul sees the future of events
Everyone agrees that we miss meeting one another physically. But what will the events industry do once physical meetings are again possible? Will online events continue or will they be forgotten just as quickly as they arrived? In Paul's view, both forms have their own benefits.
"When I look back at this event, the limitations in fact helped us connect better with our colleagues abroad. Online events are perfect for sharing knowledge digitally between different countries. But when it comes to networking, live is still easier than online. As such, I expect that the next learning event will have a hybrid format. We will definitely come together with our Dutch colleagues, with online sessions added to include those in other countries."
View the aftermovie of the EY online learning event.